Time Is Short. Be Patient.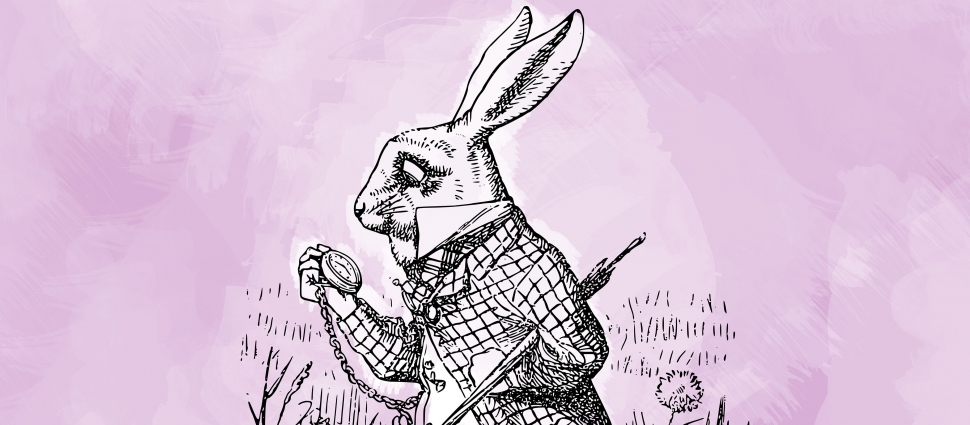 The white rabbit in Lewis Carroll's Alice in Wonderland is famously short on time. Having been summoned by the Queen of Hearts, he dashes in and out of the story, repeatedly checking his pocket watch and telling Alice how late he is.
The white rabbit is not a very appealing character. From the tips of his ears to his fluffy white tail, he is entirely self-absorbed. He can't even manage a polite greeting to Alice as he scampers past, let alone help the poor girl find her way.
Often, like the white rabbit, we are so focused on the shortness of time that we allow ourselves to fall into impatience. The unexpected traffic, the tardy employee, the dawdling child all cause our hearts to explode with "Hurry up! I don't have much time!"
But James offers us counterintuitive wisdom about time: "You also, be patient. Establish your hearts, for the coming of the Lord is at hand. Do not grumble against one another, brothers, so that you may not be judged; behold, the Judge is standing at the door" (5:8–9).
Because time is short, we should be patient.
Time Is Shorter Than You Think
First, James tells us, time is much shorter than we think. We may be rushing around to finish that project or get to that appointment, but we have set our eyes on an ultimately insignificant deadline. What's more, we assume those earthly deadlines will just keep coming due, one after another.
But the real deadline—the end of all things—is coming much faster than we think. The Bible tells us the day of the Lord is "coming soon" (Rev. 22:20), it is "at hand" (1 Pet. 4:7), and it is "near" (Heb. 10:25). Time, Scripture says, is "very short" (1 Cor. 7:29). While we are busy manipulating entries in our Google calendars, the end is almost upon us.
Judgment Is Certain
Next, James tells us, judgment is certain. The last day is not a flexible deadline—open to requests for an extension. The day is "coming" even now.
And it will not be impersonal—it won't be like filing your taxes or scheduling an automated system reboot. At the end of days, the Judge himself will appear. The Lord—who is today "standing at the door"—will personally come to pass sentence on everyone who has ever lived.
Therefore, Be Patient
Perhaps counterintuitively, these truths ought to increase our patience.
On the one hand, the shortness of time ought to make us rightly fear God and seek to obey him. We cannot waste time in impatient unrighteousness, squandering our moments in anger and anxiety, and be found grumbling when the Judge appears.
On the other hand, the shortness of time ought to give us courage. One day very soon, our Lord will right all wrongs and judge all injustices.
If Jacob, out of his great love for Rachel, could work patiently for many years (see Gen. 29:1–30), so, too, believers who "have loved [Christ's] appearing" (2 Tim. 4:8) can redeem the moments of our days anticipating the Beloved's return.
Be patient. He is coming.
Patience: Waiting with Hope by Megan Hill (P&R, October 2021) is a 31-day devotional designed to help Christians seeking to grow in the grace of patience. This article is adapted from the book. Used by permission.
---
Megan Hill is the author of five books, most recently: Patience: Waiting with Hope (P&R, 2021). An editor for The Gospel Coalition, Megan lives in Massachusetts with her husband and four children where they belong to West Springfield Covenant Community Church (PCA).
---
Related Links
"Patience and Maturity" by Gabriel Williams
"The Rock of My Strength" by Derrick Brite
"Look to Jesus" by Patrick Ramsey
"Persistent Prayer" by Guy Richard
Patience: Waiting with Hope by Megan Hill