Marie Durand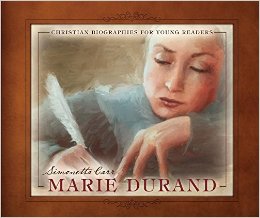 I love reading Simonetta Carr's Christian Biographies for Young Readers. The books in this series highlight those who have persevered in the faith. Some are familiar names, like all the "Johns:" John Calvin, John Owen, John Knox, and Jonathan Edwards. But Carr has also written on some lesser known saints such as Lady Jane Grey. I was eager to read her latest on
Marie Durand
because I knew little about this French Protestant from the 18th century.
One thing that I appreciate about Carr's writing is that she doesn't debone it. What I mean is, she doesn't take out all of the inconvenient truths and stumbling blocks that most children's authors would remove for easy digestion. Carr tells is like was and leaves the reader faced with some of the same perplexities as the Christian figures in her books. Our faith isn't in people or in present blessings, but in Jesus Christ our Lord and the resurrection life to come. Carr's biographies showcase how this truth helped God's people to endure in some of the worst of circumstances. I am reminded of our great cloud of witnesses in Hebrews 11, "These all died in the faith, not having received the things promised, but having seen them and greeted them from afar" (Heb. 11:13).
Carr opens up with a killer hook, "Born in the enchanting region between the Rheine River and the Massif Central Mountains in Southern France, Marie Durand chose to spend most of her life in a dark, unhealthy prison rather than follow a religion she considered contrary to the teachings of Christ" (4). Carr then gives the background of the tension between the French Protestants and the Roman Catholic monarchy, including a time Protestants were allowed to worship according to their conscience under the rule of King Henry IV, his great grandson revoking that law that protected Protestants after his grandfather's death, and the following war of rebellion. By the time Marie was born in 1711, her family had to worship in secret.
Her brother Pierre became a Protestant pastor and also a wanted man. Sadly, because the authorities could not find Pierre, they imprisoned his family. At the age of 19, the newly engaged Marie was sent to the Tower of Constance, "an ancient building that had been used as a watchtower and prison," simply for being the sister of a Protestant pastor (20). She was never to see her fiancé again. The rest of the book unfolds the dreadful living conditions that Marie endured with about twenty-five other female prisoners for the next thirty-eight years. As Marie persevered, holding fast to her confession of hope, she watched some of these women lose their children, lose their mind, health, and some their faith. Some recanted their Protestant faith and converted to Roman Catholicism in exchange for their freedom.
During her long imprisonment, Marie's brother Pierre was captured and executed. Marie developed an intimate correspondence with her niece, Anne. After Anne's mother died, Marie tried to provide that motherly love for her from a distance, sacrificing her own health to make and send Anne new clothes from the prison, and encourage her in the Protestant faith. Carr gives us a glimmer of hope when she shares the happiest part of Marie's life, when Anne was able to live in the area for a whole month, visiting her aunt frequently.
About nine years later, after many crushed prospects for release, Prince de Beauvau was moved by compassion for these women, releasing them against direct orders from his superior. Marie was fifty-seven years old.
This is part where we would think Marie would be able to live out the rest of her life, close to her niece, enjoying her long-awaited freedom. But that is not the case. Her house had been ransacked and robbed by cousins. Anne wedded a wealthy Roman Catholic and cut off correspondence with Marie. "In fact, instead of supporting her needy aunt, Anne had allowed her husband to rent out part of Marie's farm without asking for her permission and to charge Marie for any repairs he had to make" (50). I can't imagine how devastating this betrayal of the faith was to Marie, who had sacrificed her entire life for it while loving her niece so dearly. Thankfully, a Protestant church in Amsterdam stepped in to support her with yearly donations, saving her from complete poverty. "Marie continued to rely on God's providence until the end of her life and died peacefully in her home at the age of sixty-five" (50).
These kind of stories force the reader to ask some of the same questions that Christians like Marie must have constantly been faced with: Is God sovereign? Is God good? The answer is of course yes, and Marie held this truth until the end, where she has received her true reward, Christ himself.
Simonetta Carr has given us another great biography that can be thoughtfully read by adults as well as children. And the illustrations by Matt Abraxas along with all the accompanying photography further enhance Carr's flashbacks into history. I recommend it, bones and all.