In Praise of Christian Friendship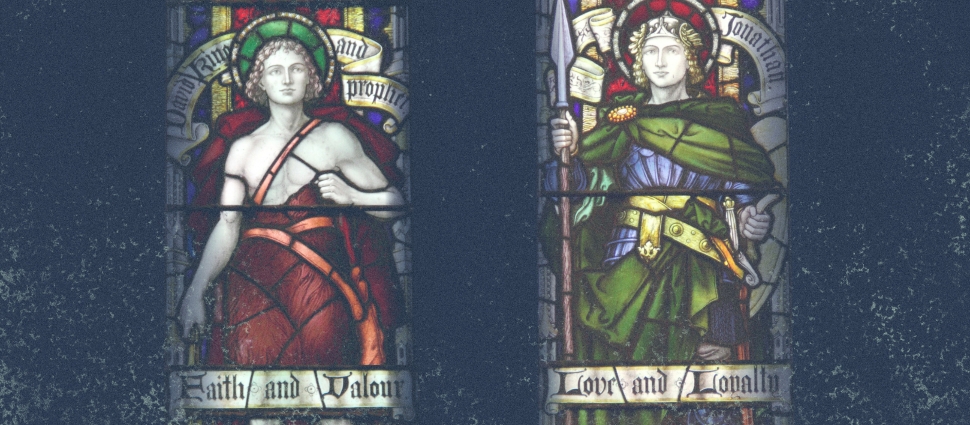 Through desire a man, having separated himself,
seeketh and intermeddleth with all wisdom...
A man that hath friends must shew himself friendly:
and there is a friend that sticketh closer than a brother.
— Proverbs 18: 1, 24 (KJV)
I've been thinking a lot about friendship lately. I think about how many today experience rampant loneliness and paralyzing isolation—some of which is self-wrought, some brought on in an era of pandemic lockdowns, some endured through no fault of their own. Social media seems to exacerbate this terrible phenomenon, both in the way it conveys faux-intimacy through "Friend Requests" and "Follows," and in the way it drives people further into corners of despair. Devoid of any flesh-and-blood camaraderie, some retreat still further into the internet, finding there yet darker corners for connection and mutuality.
What about the particular challenges for male friendship? In our sickeningly, hyper-sexualized society, there seems to be no category for sincere friendship between men. Two men out and about together are often assumed to be in a romantic relationship. This perverse assumption has led to the apparent death of platonic male friendships, as the world has no category by which to understand such a relation outside of the romantic or sexual. Perhaps the greatest example of godly fraternity — the friendship of David and Jonathan — is often distorted as a biblical example of the homoerotic romance that our culture so wishes to venerate.
Rampant isolation and the seeming death of male friendships are both topics worth exploring. But in this article, I'd simply like to express my thankfulness and explain why I value friendship (and why you should, too).
I don't consider myself to be an especially big-hearted, wonderful, or gregarious person. But in His kindness, God has granted me many true friends all over the globe. I'm especially thankful for these godly friendships because of how they have served both to keep me holy and happy.
When I first thought about this article, I considered focusing narrowly on the idea of pastoral friendships. I'm a Presbyterian minister, and most of my closest friends are also ministers. Still, I don't think what I have to say is limited to men in the pastorate, though that framework may serve as something of a template that can be applied in other contexts and social situations. John Calvin was on to something when he formed the Company of Pastors (the "Venerable Company") program to facilitate friendship and encouragement for men in addition to the work of the consistory. [1] Yet while such a program is well-suited to the unique challenges pastors face, I know plenty of ruling elders and church members who would greatly benefit from similar (if less structured) arrangements.
A Grace for the Soul
Just in the past few months, I can think of half a dozen situations where godly friendships (perhaps rightly understood as a subset of the communion of the saints) served to minister grace to me and encourage my soul:
A few months ago, I was out of town attending a class and a brother (who barely knew me from Adam's housecat) invited me to dinner. In the course of our conversation, he poured his heart out regarding some strain and trials that his family was enduring. I didn't say much that evening, as I could tell the brother just needed a friend to serve as a sounding board. He needed someone to listen to him, a brother-in-arms to offer some compassion and understanding, to pray, and to blow off steam. His problems were hardly solved, but I could tell he left in better spirits than when he started.
The ruling elders on the Session (both where I served previously and where I serve now) have continued to reach out in a variety of ways to encourage, express appreciation, and care for me and my family. Not every pastor is fortunate to have such a sympathetic situation, but it strikes me that God has provided a built-in, embedded "band of brothers" right in our immediate, local church context. How grateful I am for the means of grace these brothers are to me.
I recently took a call to another congregation. Leaving our previous congregation and city was painful — and well it should have been! Were it not for the deep and profound friendships we had formed in that congregation, with members and fellow elders and others in our city and presbytery, the joy-intermingled-with-sorrow would not have been so pointed.
A few weeks ago, a friend called me to talk about some theological ideas for an article he was writing. During our conversation, we helped each other think of some ideas we hadn't considered, and now he was going to incorporate these ideas into the article in order to further strengthen the argument. My thoughts were anything but profound, but how grateful I was to hang up the phone with that sense of "iron sharpening iron" having taken place.
A brother serving overseas recently called me on the phone. We talked about all kinds of things, including ministry and family, challenges he was facing, nagging doubts, etc. Again, I doubt I uttered anything brilliant, but I felt ministered to by his kindness and care, and I could tell the brother left the phone call refreshed and encouraged as well.
I bumped into a brother at a conference who was preparing to drive home on a two-day trip across the country. He was on a tight budget and didn't really have the means to stop and pay for lodging for the night. He was planning on simply finding a rest area and spending the night in his car. Attempting to think quickly, I realized that he would be driving right past a town where I had friends in a sister church. After a few phone calls, we had arranged for that brother to stay with a family from that church. How thankful I was for the connectionalism inherent in the church of Jesus Christ, across the nation and around the world.
Again, in all these situations, I don't know that anything especially life-altering occurred. But each scenario left me feeling refreshed, encouraged, undeserving, and thankful to the Lord.
A Guard for the Soul
I've been blessed to have a group of incredibly close friends for the past decade or so. These men and I all went to seminary together, and the friendships we've forged during that time are ones that, I suspect, will follow us all the way through this life. This is a group of men who text each other daily. We call one another and catch up on the phone with monthly regularity. A number of us have preached each other's ordination/installation services, officiated each other's weddings, administered baptism for one another's children, taught at each other's church for a weekend conference, mourned with one another when a couple has endured a devasting miscarriage, and wept with one another as we've attended a funeral for that unborn covenant child. I know that if anything ever happened to me, these would be the men who would hop on a plane and travel across the world to minister to my wife and children and to grieve together with the shared hope of Christ.
Some of us see each other annually at the PCA General Assembly or other gatherings. Others of these men are in different denominations, and so we try to make a special effort to reconnect in person as often as we can. Over the years we've talked, laughed, pontificated, and gotten on each other's nerves more times than I can count. We will pose theological questions and look to each other for insight and sharpening. We'll share pastoral struggles and challenges and look to each for advice and counsel as to how we might better serve and love our people. We've challenged each other when someone seems to be harboring an aberrant or unwise instinct and have striven to guard one another spiritually. We've encouraged each other in seasons of despair to keep pressing on; in seasons of dark temptation, to flee sin and run to Christ. I am convinced, by God's grace and in his providence, that this band has served to make all of us holier and healthier over the long haul.
On the other hand, negatively, there has been no shortage of tragic falls from grace and public scandals within our circles over the past few years. Indeed, some of those tales have ended in absolute tragedy.
I have been close to several such situations. I will not describe them in colorful detail, but it does strike me that the men in each instance, despite the variety in their sin and scenarios, shared a common factor: they were lonely and isolated. Maybe they would never have put it that way. Maybe they didn't realize it. Knowing what I know now, I wish I had tried to do more to help in some cases. Regarding the isolation, at least one man admitted as much to me when he said (paraphrasing), "My sin festered in the isolation. Who knows how things might have gone differently if there were people around me to notice and to call me out?"
How indeed. It may be morbid speculation at this point, but one wonders how things might have gone differently—if these men had fellow elders and Christian brothers close to them, noticing the change in behavior, observing the unhealthy warning signs, taking them aside, calling them out, challenging them on the speculative, innovative theological murmuring.
For these situations, godly friendship might have made all the difference. The solitary slogging enabled an isolated environment that was a ripe breeding ground for sin. For these men, friendlessness was the death knell for their ministries and their families — and, for some, their lives.
Conclusion
Whether you're a minister, a church leader, or a layperson in the pew, seek out godly friendship. Special gatherings of the saints— whether General Assembly, presbytery, or your favorite Christian conference— are great opportunities to reunite with your band of brothers. Swap stories. Poke fun at each other. Laugh uproariously. Rekindle old fraternal bonds. Pray.
As you do all of this, be also on the lookout for the loners. Include others in your godly bands of fraternity. Keep your eyes open for the one wandering around by himself. Maybe he wants some solitude and quiet time to be alone with his thoughts and the Lord. That's fine. But maybe he's in need of a friend. Try to include him. Yes, it may momentarily throw off the dynamics of the group as he acclimates to the long-established pattern of banter and the inside jokes, but so what? You might be a blessing that he needs—and, lest you think too highly of yourself, he may be a blessing that you need!
Give God thanks for the way He works His grace through godly friends. And keep on the lookout for those seeking "a friend that sticketh closer than a brother." On the other hand, if you find yourself in a situation of unwanted solitude, send me a message. Seriously. I'm not wonderful, but I know people who are. I'd be glad to connect you with some men who'd love to encourage you and be a force for godliness in your life.
People need friendship. I'm so thankful to God for the ones he's given me.
---
Sean Morris (@MrSeanGMorris) serves as a minister at Covenant Presbyterian Church (PCA) in Oak Ridge, Tennessee, and as the Academic Dean of the Blue Ridge Institute for Theological Education.
---
Related Links
"Loneliness" by Jonathan Master
"Ministerial Friendships and Longevity" by Joe Holand
"Philip Melanchthon and His Friendship with Luther" by Simonetta Carr
"Finding God in My Loneliness" by Lydia Brownback
"This World is Not My Home" by Mark Johnson
---
Notes
[1] For more on this wonderful program, upon which several modern-day pastoral fraternity efforts are modeled, please read the excellent book by Scott Manetsch, Calvin's Company of Pastors (Oxford University Press, 2012).