Prayer for Missions: Christ's Victory and God's Glory (3)
Reformed, experiential Christianity birthed the pioneer missionary efforts of men such as John Eliot (1604–1690), David Brainerd (1718–1747),William Carey (1761–1834),Adoniram Judson(1788–1850), and John G. Paton (1824–1907). This mission effort was small and struggling until it exploded into the modern missionary movement begun by Carey at the end of the eighteenth century. Persecution from Roman Catholic authorities in Europe, numerous wars, the need to first evangelize homelands in Europe and North America, the deaths of missionaries by disease and martyrdom, and the slowness of the church to respond to the Great Commission all hindered the development of Reformed missions. However, from the start, Reformed and Puritan Christians fervently prayed for worldwide evangelization and revival. In some respects, the Great Awakening and today's missionary movement may be regarded as an answer to centuries of persevering prayer. What motivated the Reformed and the Puritans to pray for the world? What guided their prayers for missions? This series seeks to provide answers to these questions.
---
The Puritan Motivation for Missionary Prayer: Christ's Victory and God's Glory
The Victory of Our Lord Jesus Christ
Missionary work finds its foundation in Christ's mediatorial triumph over sin, death, and the world. Nonetheless, massive obstacles stand in the way of mission endeavors, such as distance; expense; language; culture; the sinful hostility and hardened hearts of fallen human beings; the sins and infirmities of Christians; coldness of heart, strife, and error in the church; and the wide-ranging opposition and destructive activity of Satan. Missionary work and missionary prayer must be fueled by confidence in the power of Christ enthroned as Head of the church and Lord of all to overcome these obstacles.
Though the government in Calvin's homeland of France harshly suppressed evangelical preaching, Calvin wrote to the king: "Indeed, we are quite aware of what…lowly little men we are…. But our doctrine must tower unvanquished above all the glory and above all the might of the world, for it is not of us, but of the living God and his Christ whom the Father has appointed to 'rule from sea to sea, and from the rivers even to the ends of the earth' [Ps. 72:8]."[1]The missionary prayers of the Reformers and Puritans sprang from a biblical vision of the sovereign Christ whose kingdom must fill the earth (Ps. 72; Dan. 2:34–35, 44).[2]
Jonathan Edwards (1703–1758) wrote An Humble Attempt to promote Explicit Agreement and Visible Union of God's People in Extraordinary Prayer for the Revival of Religion and the Advancement of Christ's Kingdom on Earth, pursuant to Scripture-Promises and Prophecies concerning the last Time(1748). In this book he called for regular prayer meetings for revival and world evangelization. The motivation for this prayer, he explained, was that "it is natural and reasonable to suppose, that the whole world should finally be given to Christ, as one whose right it is to reign, as the proper heir of him who is originally the King of all nations, and the possessor of heaven and earth." God the Father has made His Son the mediator of His kingdom and heir of all the nations (Ps. 2:6–8; Heb. 1:2; 2:8).[3]
In An Humble Attempt, Edwards argued for the great advance of the kingdom of God on earth. He cited as evidence the promises that all families of the earth would be blessed (Gen. 12:3; 18:18; 22:18; 26:4; 28:14), all nations would serve the Messiah (Ps. 72:11, 17), all nations would come to the Lord (Isa. 2:2; Jer. 3:17), true religion would prevail throughout the world (Pss. 22:27; 65:5, 8; 67:7; 98:3; 113:3; Isa. 11:9; 54:1, 2, 5; Mal. 1:11), idols and idolatrous nations would perish from the earth (Isa. 60:12; Jer. 10:11, 15), and the full number of Jews and Gentiles would be saved (Rom. 11:12, 25).[4]In typical Puritan fashion, Edwards urged believers to turn these promises into prayers, calling upon the Lord to extend the kingdom of His Son. Christ's victorious position at God's right hand should move us to pray for God to establish Christ's royal dominion ("the rod of thy strength") in the very midst of His enemies (Ps. 110).
The Glory of the Living God
The very marrow of the Reformed movement was its God-centered­ness. The Reformers and Puritans were enamored with the sovereign God and overwhelmed with His majestic beauty.[5]The Puritans who composed the words of the Westminster Shorter Catechism (1647) wrote, "Man's chief end is to glorify God and to enjoy him for ever." Thomas Watson (ca. 1620–1686) wrote, "Glory is the sparkling of the Deity."[6]He said glorifying God consists of the following:
1) "Appreciation. To glorify God is to set God highest in our thoughts…. There is in God all that may draw forth both wonder and delight; there is a constellation of all beauties…. We glorify God, when we are God-admirers."
2) "Glorifying God consists in adoration, or worship…. Divine worship must be such as God himself has appointed, else it is offering strange fire (Lev. 10:1)."
3) "Affection…. It is intense and ardent. True saints are…burning in holy love to God."
4) "Subjection. This is when we dedicate ourselves to God, and stand ready dressed for his service."[7]
Watson also said, "We glorify God by laboring to draw others to God; by seeking to convert others, and so make them instruments of glorifying God."[8]The Great Commission is a further expression of the Great Commandment, for missions must be driven by love of God and longing for His name to be glorified by all nations in the earth. Calvin said God's attributes "should captivate us with wonderment for him, and impel us to celebrate his praise." He said further, "We should wish God to have the honor he deserves." According to Christ's command, Calvin urged us "to request not only that God vindicate his sacred name from all contempt and dishonor but also that he subdue the whole race of mankind to reverence for it."[9]
Experiencing God's overflowing glory causes one's heart to overflow in prayers for others. David Brainerd (1718–1747), missionary to Native Americans, wrote in his journal, "I saw that God is the only soul-satisfying portion, and I really found satisfaction in him: My soul was much enlarged in sweet intercession for my fellow men everywhere, and for many Christian friends in particular, in distant places."[10]Brainerd suffered from depression and severe hardships in his work. He died in his twenties after a long bout with tuberculosis. In all of that difficulty, he was sustained in missionary labor by his love for the glory of God. He wrote, "I felt my soul rejoice, that God is unchangeably happy and glorious; and that he will be glorified, whatever becomes of his creatures."[11]By the end of 1646, Brainerd's illness was so severe that he could do little more than pray. But he had seen God work among the Native Americans he served, and he testified:
Prayer was now wholly turned into praise; and I could do little else but try to adore and bless the living God: The wonders of his grace displayed in gathering to himself a church among the poor Indians here were the subject matter of my meditation and the occasion of exciting my soul to praise and bless his Name…. I could only rejoice that God had done the work himself; and that none in heaven or earth might pretend to share the honor of it with him; I could only be glad that God's declarative glory was advanced by the conversion of these souls, and that it was to the enlargement of his kingdom in the world…. Oh, that he might be adored and praised by all his intelligent creatures to the utmost of their powers and capacities.[12]
This vision for the glory of God in all nations also propelled William Carey to "expect great things from God and attempt great things for God." The flame of prayer for missions bursts forth from a heart in love with God. Thus the essence of all true missionary prayer is found in Christ's words, "Hallowed be thy name!"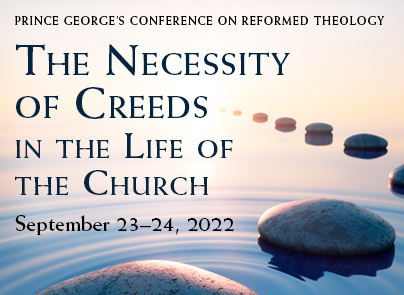 Craig Carter • J.V. Fesko